Vanilla: Surprise! Everyone's favorite flavor is a spice because it comes from a bean, a long skinny dark black bean that is hard to find. So it is very expensive. That's why many people use a special potion made from it and called "vanilla extract." And did you know there's spice in your chocolate? It's vanilla!
There are three secrets for making something special: spices, herbs and salt. Plus one more Shhhhhh. I'll tell you later.
SPICES: MAGICAL POWDERS
Spice comes to our kitchen from all over the world. It is very mysterious because it comes from strange things: the skin of a nut, the bark of a tree, a dried up berry, a seed, a root you cannot see. These are ground up into magical powders of different colors that all cast a spell because of their wonderful smell. So get out some jars of spice and smell away to find what's nice.
Cinnamon: I bet this is your favorite. So you know it's reddish brown. Did you know it comes from the bark of a tree? That's why you can buy it in "sticks." These make your apple juice taste really good.
Ginger: I bet you know this one too? Because it's the secret of...gingerbread! It comes from a root. It's golden in color and sometimes tastes hot so please be careful with the ginger you've got.
Pepper: I bet you didn't know the black pepper you sprinkle on your food is a spice! It comes from tiny dried black berries that grow in the south of India. You can see them in the pepper grinder.
Anise: This is a teeny weeny seed for everyone who likes the taste of licorice.
Cloves: This strong smelling black powder that is hiding in your gingerbread comes from tiny dried up flower buds that only grow on one kind of evergreen tree very far away. Some people think they look like little nails. Many people chew these "nails" to get sweet breath or to stop having a toothache. They are really magical. Some people stick lots of them into an orange or a ham.
HERBS: MAGICAL PLANTS
Herbs are small green plants with beautiful smells and magical powers when they get inside your body. They grow in gardens, so many people use fresh picked leaves. But mostly the green leaves are dried and put in jars where they all look the same brown. But you can tell what herb is in there by the wonderful smell. So do some smell and tell!
Basil: Everybody's favorite flavor. It's the taste of spaghetti sauce and pizza. When it's all smoushed up, it becomes pesto sauce.
Dill: You know this because it's what pickles taste like. Fresh dill is very delicious with eggs and salad. It's the best friend of beets, cheese and salmon, the fish. What comes in jars is the seed of dill and that's what makes pickles taste so good.
Oregano: You know this one too because it's what pizza tastes like. Oregano is the taste of many delicious things. Mostly people use it dried up in jars.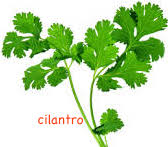 Parsley or All the different kinds of parsley: There are three kinds of parsley, the most popular herb in the world. Everybody uses it. There is the curly leaf parsley which looks like it had it's hair all curled up in frizz and there is flat parsley, which is much easier to cut and use when you are cooking. And then there is a very peppery parsley which is actually called Cilantro. Or sometimes Chinese parsley because it's in Chinese food, or sometimes even Mexican parsley because it's the special flavor of guacamole and salsa. Some people cannot eat cilantro so ask before you use it.